Founded in 1966 by acclaimed fortepianist Mary Sadovnikoff and gamba player Alison Fowle, Museum Concerts of Rhode Island presented the first performances in the Grand Gallery of the Museum of the Rhode Island School of Design. After a few seasons of presenting chamber music, they decided to focus solely on early music – performances employing early instrumental design and technique to bring to life the music of past centuries as the composers might have heard it. Mary Sadovinikoff was fascinated by early pianos and built several instruments in the late 1960s, as the early music movement was just gaining ground in America. Her recordings of Mozart and Haydn piano music on Titanic Records from the early 1980s were among the first made on a fortepiano in modern times.
The early decades featured some amazing performers –countertenors Alfred and Mark Deller, harpsichordists Daniel Pinkham and violinist Robert Brink, the young John Gibbons, fortepianists Malcom Bilson and Penny Crawford, and gambist Judith Davidoff, among others – seeking to explore the possibilities of early instruments and vocal technique. Although the series moved from the RISD Museum after a while, Providence is blessed with many historic buildings, and over the years we have performed at the Cathedral of St. John, and St. Martin's Church in Wayland Square. More recently we are back on Benefit Street at the First Unitarian Church.
As we begin our 52 Season in 2018, we look forward to continuing our Mission far into the future – an organization run by dedicated volunteers that brings to life the music of past centuries, performed by adept and informed musicians for the enrichment of the cultural life of Providence.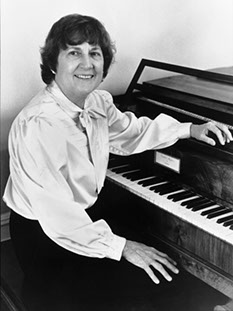 Museum Concerts co-founder
Mary Sadovnikoff.